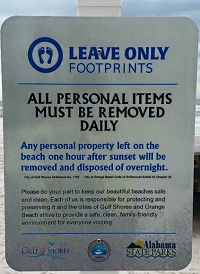 A new ordinance has been enacted in Gulf Shores and will be enforced in 2016. Below is a summary and you should read the Gulf Shores Ordinance for specifics.
Any items left near the water will be removed by the city 1 hour after sunset. This includes chairs, umbrellas, toys, etc.
Digging of holes on the beach is restricted to no deeper than 12 inches and must be supervised by someone over 16 or well marked to prevent injury. You must fill the hole in before leaving or before sunset.
While not new for 2016 – Glass bottles/containers and pets are not allowed on the beach.