Construction Project: Part II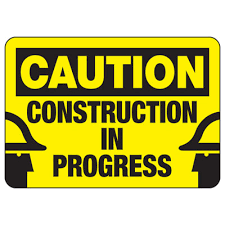 THIRD FLOOR CONSTRUCTION PROJECT – (PART II)
Dear San Carlos Owners & Guests:
As many of you are aware, we recently came very close to finalizing the third floor tile project.  Unfortunately, when a third party vendor recently came to clean the tile, one of the machines malfunctioned and caused significant scratching/damage on approximately 95% of the new tile.  As a result, the San Carlos Homeowners Association has no choice but to permit the tile contractor to remove and replace the damaged tile with new tile on the entire third floor (at no cost to the association).
This process, now deemed "Part II", will begin February 3rd and will proceed through March 2nd (2020).  The first few days will entail removal of the existing tile by use of loud equipment (all tile on the third floor including the restrooms, behind the front desk, and the two offices).  We simply cannot apologize enough to our current guests and owners presently staying at San Carlos.  We are doing everything possible to expedite this process.
Important Notes:
1)  U.S. Mail and Package Deliveries – all package deliveries will continue with all packages being placed on the kitchen counter in the conference room.  Please contact me and I will be happy to deliver your packages to your specific unit.  U.S. Mail will continue to run normally but please refrain from trying to check your unit mailbox until after 5:00pm on a daily basis for purposes of your own safety and convenience toward our contractor.  
2)  Fitness Room and Restrooms – during the initial tear-out portion of this project, the fitness room will be accessible by use of the rear stairwell from the pool area (the restrooms will be closed).  American Carpet has explained that once the tear-out portion of the project is complete, they will work diligently to install the new tile in a manner allowing Fitness Room/Conference Room access as soon as possible.  
3)  Vendor Sign-In Book – Sign in sheet is located on a temporary table located in the first floor lobby.  If you have any unit projects scheduled or vendors that will arrive over the next week, please ask that they sign-in on the first floor lobby.  Please contact me directly for purposes of obtaining KABA codes for roof A/C access:  Dan Cell (Manager) – 251-747-4111
*Also:  on the table in the first floor lobby you will find the San Carlos Construction/Remodeling Work Rules as well as a copy of the San Carlos Parking Rules should you need to review such.  Please know that I fully recognize that noise will be an issue over the next few days due to the various tools that are needed during the tear-out process.  Please contact me directly with any questions or concerns.
Sincerely, 
-Dan