Weather Alert: Potential Tropical Cyclone Nine
Dear San Carlos Owners, 
Please know there is currently a disturbance, originally dubbed 95L, which became "Potential Tropical Cyclone Nine" this afternoon.  If this system were to become a tropical storm, it would be called "Humberto".  As a potential tropical cyclone, this storm is expected to bring tropical storm or hurricane conditions to land in the next 48 hours, even though it is not yet a named tropical system.  As of 5 p.m. today, September 12, 2019, the center of the system was about 235 miles southeast of Great Abaco Island with maximum sustained winds of 30 mph. Tropical Storm Warnings have been issued for the northwestern Bahamas, including Grand Bahama Island.
At this point there are various predictive tracking forecasts and it remains unclear exactly what track the storm will take.  Should the storm strengthen to some degree and track northward along the Atlantic coast, there are some scenarios that take the storm back out to sea off the Carolina coast next week, push the storm inland over the southeastern U.S. and one that recurves the system toward the mid-Atlantic coast next weekend.  However, if the storm stays weak early on and drifts into the Gulf of Mexico, it may strengthen over the warm water.  From there, a drift over the South Central U.S. would be inevitable.
I intend on monitoring the progress of this storm and will continue to update everyone as more information becomes available.  For now, the following path prediction is featured: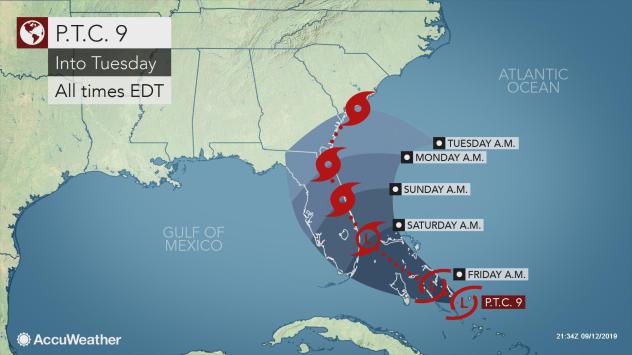 Please contact me with any questions or concerns,
Sincerely,
-Dan