Dear San Carlos Owners:
Gulf Shores will avoid direct impact from Tropical Storm Frank. A tropical storm warning has been issued for the Florida Panhandle (from Navarre to the Wakulla/Jefferson County), including Panama City. Tropical storm conditions (39+ mph winds) are expected in these areas beginning later this afternoon. Fred is currently centered about over 150 miles south of Panama City, Florida, and is tracking north at about 10 mph: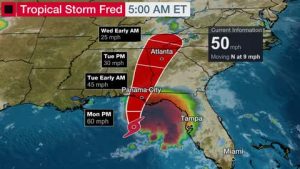 The good news, at this juncture, is that Gulf Shores will not be significantly impacted by Tropical Storm Frank. Please know that San Carlos staff did adhere to our storm preparation protocol yesterday, but at this point it doesn't appear as though we will need to relocate balcony furniture and/or sandbag lobby doors.
In regards to Tropical Depression Grace, here again it appears as though Gulf Shores will not be impacted. Grace is currently forecast to regain tropical storm intensity as it moves through the northwest Caribbean Tuesday into Wednesday. Grace could then impact Mexico's Yucatan Peninsula with heavy rain and gusty winds by Thursday. It is possible that Grace will remerge over the southwest Gulf of Mexico (Bay of Campeche) and approach northeast Mexico or far southern Texas late week, but details are still uncertain.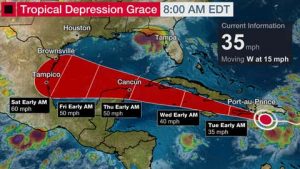 NHC -Tropical Depression Grace
I will continue to monitor both storms and update everyone should anything change.
Thank you all sincerely,
-Dan